Discover the new "Tools of the Trade" for Thought Field Therapy (TFT) Practitioners.
The TFT tools that I share with you are applicable to all levels of TFT users. They are a combination of both time-tested tools that Roger discovered over 30 years ago to some that are just being introduced…
Get the Tools of the Trade
Voltmeter and Psychological Reversal book (pdf):
Learn how to use this simple yet vital TFT tool. This book explores how energy fields can be measured in your own body by the use of a simple voltmeter. This amazing book explores how changes in these energy fields can have significant adverse affects on your overall health and how using a simple voltmeter can help you monitor these changes which can be corrected with TFT! If you have any interest in staying healthy (and who doesn't) this book will change the way you monitor your health. You can purchase it here for $37 (Reg, $79).
Voltmeter:
When properly treated with Dr Callahan's methods, the literal body polarity can change from negative to positive. In this PDF book, Dr. Callahan shows you that an appropriate voltmeter can confirm your finding of PR. It can also show that your treatment for PR can change the polarity reading on the voltmeter from NEGATIVE to POSITIVE.
Can be purchased at Radio Shack – Model # 2200039
Digital Multimeter
Synchronicity High-Tech Meditation®
Meditate the Modern Way
With Synchronicity High-Tech Meditation modern meditators around the world enjoy the effects of precision technological meditation, producing the profiles of long term advanced meditators at a fraction of the time compared to conventional low-tech methods.
Synchrony of the right and left-brain hemispheres.
Increased amplitude in alpha, theta and delta brainwaves.
Balanced and coherent beta and gamma brainwaves.
Increased brainwave coherence.
Increased whole-brain function.
Meditate the Low-Tech Way for 5 years and Your Brain Will Look Like This…
Meditate the High-Tech Way for 5 Years and Your Brain Will Look Like This…
These impressive results are based on research comparing brainwave patterns of Synchronicity High-Tech Meditation. users with those produced by traditional meditators, confirming rapid and measurable changes in Synchronicity meditators states of consciousness.
High-Tech Meditation®… The Missing Piece of the Puzzle!
Special Offers: NOW… The Technology
For general meditation practice and environmental balance.
Click Here to Order the CD or MP3 Download
The Recognitions Program
For an advanced meditation practice, the Recognitions Program includes Delta level High-Tech Meditation. Technology and ongoing facilitation with skilled coaches.
The most expansive level of Synchronicity digital technology is only available in the Recognitions Program. This is the leading – edge of the High-Tech Meditation experience. Because of its impact, facilitation is required and included – the support and guidance of an experienced and qualified coach – which is an integral part of the Recognitions Program.
---
ZEOLITE PURE is unadulterated, unpolluted, all-natural zeolite:
Toxins, radicals and heavy metals have no chance against ZEOLITE PURE's natural formula, which has been scientifically proven as effective across multiple studies. Beyond removing heavy metals and toxins, ZEOLITE PURE balances the pH in the body, preventing the growth of foreign cells.
This all-natural zeolite supplement is available in powder form for those unable or unwilling to take the capsules. Because ZEOLITE PURE is made from all-natural zeolite, the supplement doesn't have any major side effects like most detoxifiers. Features: The most economical Zeolite detox on the market.
Approx 90 servings per container. Very finely micronized Zeolite. Other forms are now available.
Natural Cellular Defense (NCD):
Waiora's Natural Cellular Defense (NCD) is the original liquid zeolite and the "category creator" for zeolite products used for health and wellness. 100% natural and non-toxic, Natural Cellular Defense has been clinically formulated to help remove heavy metals and toxins, support a healthy immune system and balance your body's pH levels.*
Using a proprietary micronization and activation process, Natural Cellular Defense isn't just a superior product, it is the only zeolite product proven effective in ridding your body of chemicals, toxins and pollutants.
Waiora NCD – www.mywaiora.com/188122
Testimonials – www.Testimonyinfo.com/index.htm
Rescue Remedy:
Rescue Remedy is a combination of five of the original Bach Flower Remedies which are especially beneficial when you find yourself in traumatic situations, such as, stress, emergencies, after getting bad news, before an exam or job interview and all other kind of situations where we suddenly lose balance mentally. The Remedies quickly get us back in our normal balance so that we calmly can deal with any situation.
Please contact – Chris@tftrx.com to order
Muse:
Take your meditation and yoga practice to the next level with Muse: the Brain Sensing headband.
Muse is a tool to enhance your wellness by helping you to train your brain. It's designed to build on the healthy body and mind you are already working on by providing you with real-time feedback during daily guided training sessions as short as 3 minutes a day, any time any where.
Please contact – Chris@tftrx.com to order
HRV as One of our Tools:

HRV – Short-term HRV analysis and assessment of the autonomic regulation. It is believed that Heart Rate Variability (HRV) will become as common as pulse, blood pressure or temperature in patient charts in the near future. In the last ten years more than 2000 published articles have been written about HRV. HRV has been used as a screening tool in many disease processes. Various medical disciplines are looking at HRV. In diabetes and heart disease it has been proven to be predictive of the likelihood of future events. In 1996, a special task force was formed between the US and European Physiological associations to outline current finds on HRV and set specific standards on using HRV in medical science and future practice. Since then a steady stream of new information and value continues to come out of HRV research.
It all started in 1966 when a variation in the beat-to-beat intervals between heartbeats was noticed. Initially all recording devices were averaging heart rate data stream trying to get rid of any rapid HR fluctuations. Then there were very specific patterns in such fluctuations were noticed that had links to certain conditions way before any clinical symptoms appeared.
Contact Chris@tftrx.com for prices and brochure.
Progurt: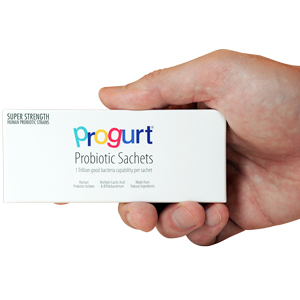 In the last Thought Field we shared many of the valuable "Tools of the Trade" that we use within our practice of TFT and for better health. I asked some of our long time practitioners to share something about their application and benefits. Norma Gairdner briefly mentioned "Progurt" as one that she consistently used.
I asked her to elaborate on it for us and she sent the following note:
"My focus in assisting people toward improved and sustainable health has been based on the willingness to seek out and do what works best.
Homeopathy and TFT are two skills upon which I have depended for achieving excellent healing results, consistently over time.
Enter Progurt! A booster shot for your body and your practice 🙂 Progurt is a Human Probiotic Isolate developed from breast milk. It is a multi-strain probiotic that contains the most fragile, and often missing, strains – the replenishment of which naturally creates wholesome and impressive results, and not only in the gut.
For example, I had one Autistic child client who had never hugged her mother from the front, but always turned her back for a hug. Within minutes of taking her first few sachets of Progurt, she turned around, hugged her mother from the front, and said: "Hi Mom!", which was also a first! Another client suffered repetitive strep throat and multiple ear infections for years, and after taking Progurt to replace the missing strains (from overuse of anti-biotics), the chronic infections ceased completely.
Personally, I appreciate how Progurt has made it possible for me to travel internationally without getting sick, as I always did in the past, and in fact, I shied away from flying because of it. Now, I simply take 2 Progurt sachets before getting on a plane, and also 2 after arrival, and voila – no down time.
If you're in general good health, and would like a boost to your immune system, Progurt can assist you to be even stronger and healthier. And if you're in poor health, struggling to maintain, there's a chance that the Progurt bacteria may provide the what's been missing.
Oh, and another thing – after taking the dry sachets as needed for various conditions, you can use the sachets to make the most delicious and healthful yogurt ever. Progurt to me, is one of the very best uses of "food as medicine".
Blessings on your health and work,
Norma Gairdner, HD, TFT Adv
Note: I too use Progurt satchets to prevent getting sick when traveling around the world.
Please visit – www.progurt.com to learn more about the products and email them at info@progurt.com.au for pricing – be sure to put "TFT Practitioner" in the subject line, in order to get a significant savings on your order.
---
Tachyonized Cubic Zirconia Stud Earings: $42.48
Wear these elegant gold filled 5mm Tachyonized™ cubic zirconia stud earrings to stimulate the meridian points in the ears, help balance the right and left hemisphere of the brain, help increase clarity while studying for exams, or wear daily to stimulate the area to function at its highest bio energetic potential. When wearing the Tachyonized earrings it is important that you wear one in each ear to facilitate balance.
Tachyonized™ Earrings are designed to stimulate the meridian points in the ears by charging the Subtle Organizing Energy Field (SOEF).
ACTIONS:
According to traditional Chinese medicine and other healing systems, the ears contain a map of the whole body. SOEF converts Tachyon into the various frequencies needed to create order and harmony. Tachyonized Earrings work by charging your Subtle Organizing Energy Field (SOEF) and stimulating the body to function at its highest bio energetic potential.
---
Our Latest Instant-Access Tapping Audio Class:

Click Here for Details!