Join me on September 8-9, 2018, in Charlottesville, VA, where I will be offering the NEW TFT Diagnostic level training.
This is your opportunity to get hands-on training in Callahan Techniques® Thought Field Therapy®.
This information alone could add a complete new profit center to your practice and years of good health to your life.
Another, very powerful procedure you will learn is how to help cravings and addictive urges, even obsessive negative behaviors. In fact, these procedures are so effective, top weight loss and addiction professionals use them as the basis or part of their best-selling programs.
Our past trainees agree TFT is by far the most effective and efficient treatment available today. Many come back for a further training or a refresher course and the latest developments in TFT procedures. We encourage their continued education in TFT.
Think how much better you or a family member could feel if you could eliminate all the negative side-effects of a necessary medication. I know from personal experience, how much better life is without a headache, nausea or flu-like symptoms that come with some necessary medications.
 This training allows you to diagnose, i.e., determine the precise sequence of tapping required, to quickly help most psychological problems and daily stresses.
The 2-day live course is limited to 18 people, to allow for hands-on training.
Your training program includes step-by-step protocols, relevant handouts, and a combination of demonstration and instructional support materials.
A variety of problems are addressed including; physical pain, abuse, trauma victims, anxiety or panic, depression, addictions, anorexia, simple phobias and many of life's problems that we all experience. This gives you a wide background to not only rapidly increase your skills, but discover the benefits of TFT for yourself.
Many part-time practitioners and healthcare workers from other fields have said:
"I have heard so much about the power of TFT and want to be able to add it to my practice, but I don't have the time or need to learn all the levels of training and comprehensive theory. Can't you just give me the most effective tools to add to my practice."
I would like to thank you for a life-changing weekend! Since I learned my first algorithm my life was never the same! Now I can't imagine living the rest of my life without TFT! Your instruction and guidance is very much appreciated! I'm proud to have joined such a wonderful organization and I do believe we will change many more lives together! Marjorie Alayon
Others, like mothers, school teachers, massage therapists and clergy tell us they want to be able to use the powerful tools of TFT to help their friends, family or congregations, but they don't want to know all the theory behind it or do a lot of studying. They just want to help themselves and others.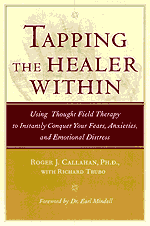 Thought Field Therapy® (TFT) is gaining worldwide attention at an ever-increasing rate. Dr. Callahan's book, Tapping the Healer Within, is now available in Danish, Norwegian, Japanese, French, Chinese, Korean, Spanish, Arabic Russian, and, also in the United Kingdom in paperback. TFT is reaching a worldwide audience.
The results TFT achieves for our readers are positively astounding. There is an ever-increasing demand to learn TFT at all levels.
Public awareness is constantly growing as TFT is recommended by high profile individuals, trainers and celebrities such as Paul McKenna (UK) and Jack Canfield (Success Principles, USA) and Joe Vitale (of the Secret). They use and recommend TFT in their training, on national television, and in best-selling books throughout Europe and USA.
You and I know there are millions of consumers in today's chaotic, rapidly-changing world, who could greatly improve their lives through these simple self-applied procedures.
TFT has been called one of the "power therapies" of the next century.
This is your opportunity to get hands-on training with Callahan Techniques® Thought Field Therapy®.
You now have the opportunity to join the healing world of TFT, learning just what you need to help your family or boost your practice.
Be a part of a rapidly growing international group healing the world with TFT Meridian Tapping.
Respectfully Yours,


Joanne M Callahan, MBA
President, Callahan Techniques, Ltd.